Notice anything new around here?
Think your at the wrong place?
You aren't! Just yesterday I was KplusJequalsLove.
As great as that name was, it just didn't feel like it fit anymore.
I wanted something more fresh and simple.
I wanted some more me and is there anything more me, than coffee? ;)
As much as I love coffee there is much more in this name.
Coffee clearly is brewed, but I think a lot of things can be.
I think a lot of things can freshly fill up my life and refresh me just like coffee does.
My family, faith, and so much more can do that!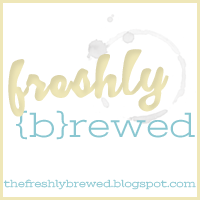 This blog name is absolutely what I wanted
and expresses more of my life and what I want in it.
I want family and faith to be "freshly brewed" every single day in my life.
I want to constantly have those things in my life, I want to be filled up with them.
I cannot take credit for coming up with this name, however.
As much as I knew I wanted a new name I struggled to come up with one.
I wanted one with meaning, but could not think of anything at all.
One day my wonderful friend
Kristina
told me she dreamed about my blog.
Let me tell you it was a pretty funny image including kangaroos! HA!
We talked more and she mentioned Freshly Brewed.
The second I saw those words I knew it was it.
It was so ME and if you notice are name is sorta, kinda in the title, which adds a little fun!
Thank you friend, for helping me come up with something amazing!
The other amazing thing? Look at this design!!! Seriously in love!
I had always been a fan of
Erin Lauray's
work and I was not a bit disappointed!
I knew that I wanted a coffee theme, but that was about it.
I had no idea what that looked like, but Erin totally did!
She came up with the best design for this space and I couldn't be happier with it.
Seriously, those little coffee mugs and the coffee ring in the header? LOVE!
If you need a new design I highly suggest her.
Thank you so much Erin for being so pleasant to work with and making this space awesome!
Welcome to my new space friends! Happy Friday!